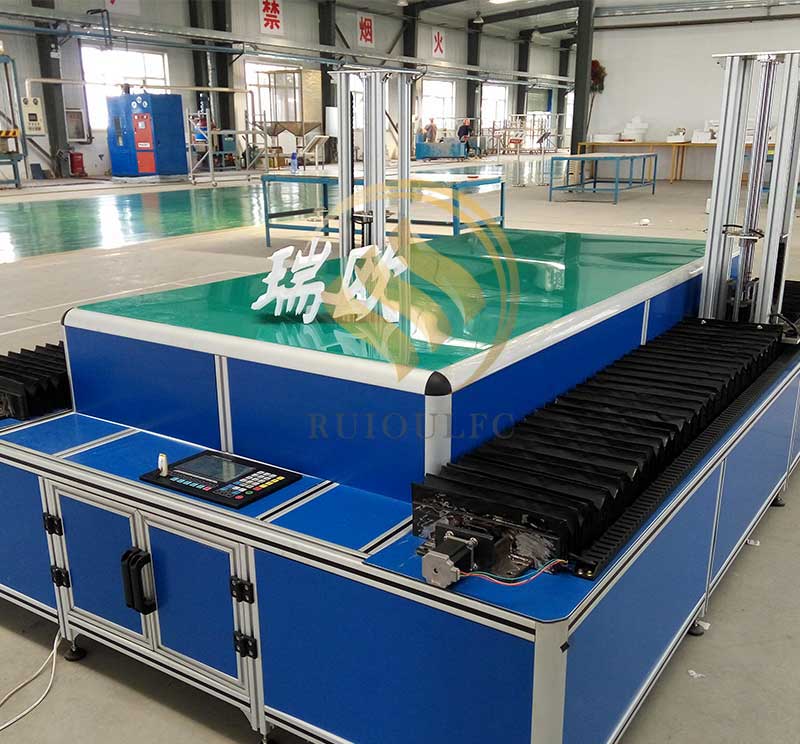 Product Structure
The four axis CNC foam cutting machine is mainly composed of body, tower, control box, cpu and its cutting accessories (resistance wire, fish mouth clip, etc.).
Four axis CNC cutting machine frame is made of all-steel-frame and aluminum, one-type structure ensures the precision of the equipment. Steel frame is firm and convenient for equipment in the workshop layout movement. Controller is four axis controller developed by Ruiou company. Y-axis drive form uses high precision ball screw transmission, the X-axis uses high precision gear with precision stepper motor reducer in order to ensure the machining accuracy of the equipment.
Product Performance and Characteristics
1. High degree of automation, use the code and drawing in computer to control achieving automatic cutting with high efficiency which is several times of manual model making.
2. It can cut many types model,it can achieve most types of cutting for double-section entity(The angle between the two cross section is bigger than 35°).
3. Save materials and achieve computerized typesetting and fully use of the material.
4. Y axis is driven by ball wire cylinder. The precision grade of ball wire cylinder is 5, and X shaft is driven by rack and pinion.
5. Drive motor is stepping type. Standard and brand series stepper motor, strong interchangeability.
6. Cutting software GMFC has same scale drawing function. For example, when dxf format file or plt code file of equilateral triangle have been drawn, you don't need to redraw the equilateral triangle with different size. Only two parameters changing in the software will do. (Be careful when different sections).
Technical Parameters

Parameter only for reference. slightly modified will not be marked.